I was meaning to do a post about this last week to help you guys prepare, but my schedule just wasn't allowing it. Darn. Anyways, this is my 4th year in Vegas and I've been shopping Black Friday every year since I've moved here. My family back in Chicago always shopped it but I always refused to go. It wasn't until my first year here when I got a job at Target that got me hooked on the sales! I know that there are better sales right before and after Christmas, but I honestly like the whole experience of Black Friday as silly as it sounds. My family here in Vegas thought I was crazy too until I convinced them to go with me my second year living here, and I got them hooked too! Haha. This year, however, I wasn't initially that crazy about the sales. Not only were the sales ON Thanksgiving, most of the sale items were the same as last year. Mahal and I decided not to shop this year until we found out my extended family was going back home to Chicago to celebrate Thanksgiving. It was just going to be Mahal, JAM, and I so we just decided to check out the sales since we had nothing better to do after eating hehe.
There are TONS of black Friday ads online that you can use to plan but my favorite is
this
one. We've been stalking the sales for a couple of weeks now and there wasn't much we really wanted. Mahal wanted a new TV and it's typical of me to stock up on pjs for the kiddos and DVDs I want to add to my collection. I wanted to make the trip worthwhile so I asked my mom if she wanted me to shop for her since she's coming here for Christmas this year. We decided to head to Target around 4pm since they opened at 9pm. This year many stores offered an online shopping option so while we waited I did a little online shopping and got a few big ticket items! Yay! It was my first time shopping online for black Friday, but I don't think I'll do it again. A big ticket item I ordered from Sam's club ended up getting oversold ending up with my order being cancelled the following day. Sam's club luckily had it in stock in store when I went later on Saturday morning. To resolve the situation they emailed me a week later apologizing and extending my membership for another year!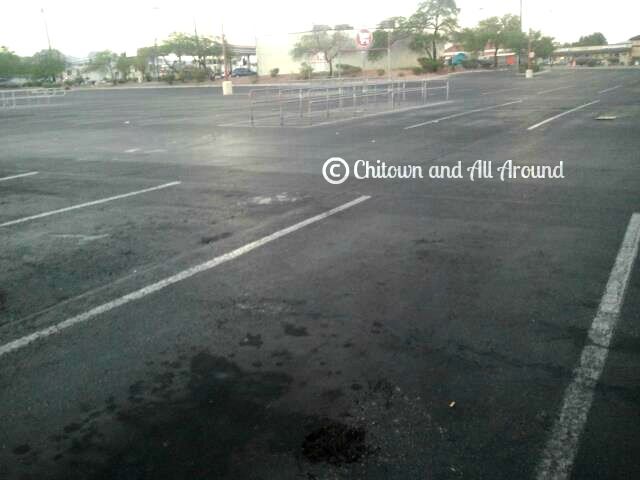 This is how I like to see a Black Friday parking lot when I arrive!
Anyways, back to Black Friday. Walmart opened at 8pm, but Target had the TV Mahal wanted. I honestly hate that their opening was an hour apart. Usually it's like 4 hours apart so we usually go to Walmart first since they usually open first, then go toTarget. This was our first year shopping by our house. We usually have Thanksgiving dinner at my aunt's house then shop near her house afterwards, but since it was just us this year we shopped by our place. Luckily our Walmart and Target are across the street from each other. As we were heading to Target, Mahal said if there's more than 10 people in line we won't bother waiting in line because there will be no way we'd get the TV. We turned into the parking lot and there was ONE car in the lot! NO WAY! Got to the line and we were second in line! Yay! We got comfy and made buddies with the people around us. We strategized and 6 hours later we were in! Thankfully we got everything on our list and we were in and out in about 30 minutes! I have to say, I loved my shopping experience at my local Target compared to the one by my aunt's house. They handled the line situation nicely, the managers were so helpful with our questions, they handed out tickets for the doorbuster TV we wanted (unlike the other Target where it was a free for all), they let in a group of people at a time so people weren't trampling over each other, and the cashiers and workers were very efficient in helping us find our items and quickly check out.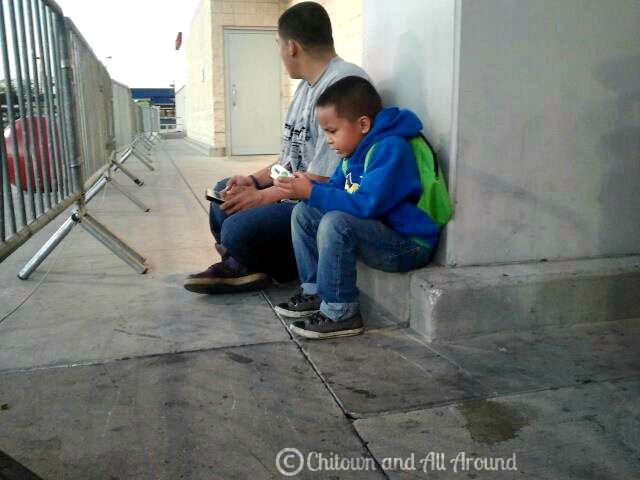 2nd in line! woot! woot!
We decided to head to Walmart afterwards to see if we can still find some items after it's been opened for about an hour now. That place was chaos as usual. I luckily found the key items I wanted, but cardboard displays were broken, people were tackling each other when they released items in time waves (which I hate because people just wait and gather around the display then jump over crowds just to get an item), and of course I waited an hour in line. All in all a great trip. We got all the items we wanted in store. As far as cyber Monday went, there wasn't much I wanted but more cheap DVDs.
Did you go Black Friday/ Cyber Monday Shopping? What did you buy?