PHEW! Man, what a week! I promise I haven't forgotten about you guys. This week has just been super crazy with the holidays and I'm barely recuperating before it's time to set up for Christmas. My extended family spent Thanksgiving in Chicago this year so it was just Mahal, JAM, and I. It was our first Thanksgiving with just us in our home and it was quite nice! Mahal cooked a bunch of traditional Puerto Rican food for our Thanksgiving brunch, then we relaxed a bit until it was time to go Black Friday (or should I say Thursday) shopping.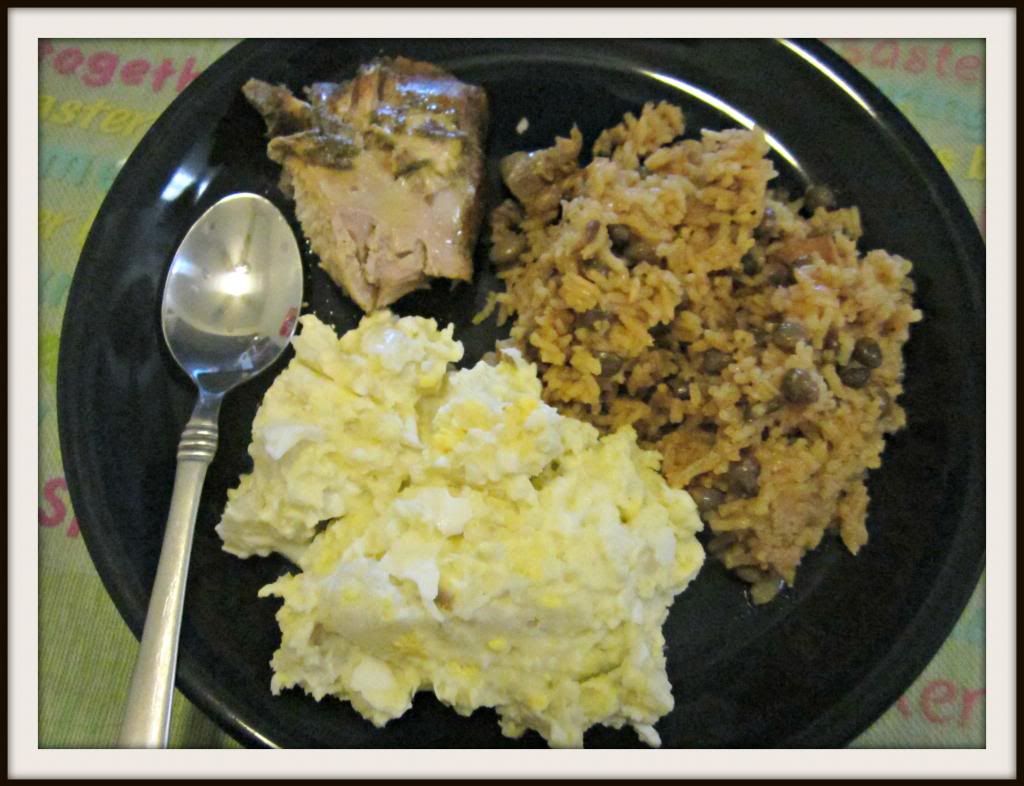 Puerto Rican Pernil, Puerto Rican Rice, and Potato Salad. Yum!
Thanksgiving is all about giving thanks and reflecting on all the things you have and are grateful for. I want to thank God for keeping my family safe, happy and healthy. Every time we felt lost or stuck in a corner, he always came through for us and I thank him every day that we have our health, a roof over our head, clothes on our back and yummy food in our belly. I also want to thank Mahal for being the amazing man that he is. He works hard for our son and I even when he's sick or physically hurting from his job. He's there when I need him most, he always know how to make me smile, and he makes me feel beautiful every day. I'm also thankful for JAM. While he was still in the womb the doctor told us that he could of had brain issues and possible retardation. He was a preemie at 5 lbs. 4 oz. and even lost another pound while recuperating from the jaundice. Today at 6 years old, he's the top of his class and I couldn't be prouder of my little man. He may be a pain in my butt sometimes but he's so loving and caring. People always have nothing but great things to say about him and I love watching him grow (even though sometimes I wish he'd slow down hehe). I'm thankful for my ginormous extended family! We can be dysfunctional at times, but I love my crazy family. God has blessed up with MANY new and upcoming editions to our family and I can't wait to meet them all! I'm also thankful for my friends old and new. I'd be lost without you all. You guys always push me to be my best and are always a phone call away at any time of day. Last but not least, I'm thankful for my Chitown and All Around readers! I started this blog at the beginning of the year without a clue of how to do it. it's all still a learning process, but I love hearing all your thoughts and feedback. We're quickly approaching 10,000 views from all around the world and that's all thanks to you! Even if I helped out 1 reader out there, I know all of this was worth it. Thanks for always tuning in and commenting when you can. I love reading them all!
I hope everyone had an amazing Thanksgiving this year!