TODAY'S THE BIG DAY!
Election Day
! I know I come across many people on a daily basis who choose not to vote or assume that their vote doesn't matter etc. etc. Growing up in Chicago I can fully admit that I wasn't one to get into politics. My grandparents always talked to us about the elections during this time of year and we'd have discussions about it in school to explain it all, but I honestly didn't see what the big deal was. Then I moved to Las Vegas where I personally feel like you can feel the impact of your political decisions more because our town is a lot smaller than Chicago. You see it in the jobs, the house market, the schools, how the businesses are ran, EVERYTHING. Mahal and I would have discussion about our Mayor and other representatives every time we saw something negative going on in our town because of the decisions of our state leaders. These were conversations we naturally didn't have and it kind of caught us off guard every time we did making us realize that we truly needed to start voting to help change things around town. We may not always get the outcome we hope for in the elections, but at least we can say we did our part by having our voice heard by voting.
After 7 years, Mahal and I shared another first together. On October 24th, 2012, Mahal and I headed to the early voting polls and voted for the first time together. For all you other first time voters I understand how you feel. It's a little confusing and nerve-wrecking because you don't want to mess up because you don't know what it's like or how to do it. In Las Vegas, they sent Mahal and I a packet that had "sample ballot" on it. We also received post cards that said voter registration card on it. The sample ballot had the candidates that were up for election in it and what division of office they were running for. There were also 2 questions of two local issues that you can vote "yes" or "no" upon. There were honestly a good amount of local positions that I knew nothing about. So, I went online and did my research on each individual. The information honestly wasn't hard to find haha. I wanted to choose a person who I felt had the same morals and beliefs as me who I knew would run things the way I'd want my political leader to handle things. I filled in the sample ballot bubbles as I went along, explained everything to Mahal, grabbed the sample ballots and voter registration cards and found our early voting location.
The whole voting process was soooooo simple! You went in, went the the check-in desk where they scanned our sample ballot packet (it had a barcode on it), then they gave you what looked like a credit card to put in the electronic ballot box, and from there, just chose the people we wanted to vote for! Luckily we filled out the sample ballots beforehand so it saved us some time at the polls especially since the ballot box screen was in the same order as our sample ballots. You can review your voting choices at the end and just in case, you're able to hit a back button if you noticed you made a mistake. Once you're done just click submit, you choices get printed on a receipt behind a glass box that rolls away (you don't get the receipt). You hand your credit card looking thing to the guy at the exit and in exchange you get a fun sticker! I can say that I was truly proud to receive that sticker. There was nothing to be afraid of after all. The whole voting process too maybe 2-3 minutes max!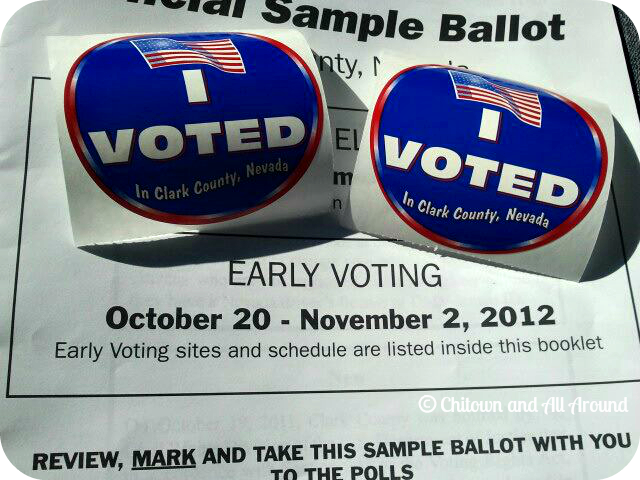 So, GO OUT AND VOTE TODAY! It's never to late to do it for the first time if that's the case. Even if you're not happy with some of the candidates you have the option to choose neither and there are so many local positions that still need your vote besides the President. It's not inconvenient at all! It takes a couple minutes and you're in and out. Everything is self explanatory. Educate yourself on the candidates as well. Also, if you're not voting because you don't want to have to do jury duty you're doomed anyways. You don't do jury duty in Nevada because you're in some roster from voting, they get their roster from the DMV so if you have an ID or driver's license, you're already going to end up serving eventually. SO VOTE! If you choose not to, I understand. I was you once. However, once the elections are over, I don't want to hear you complaining about silly wars our country is in, why it's so hard to pay for college, why you hate that your kids' classroom sizes are so huge, why you can't find a job in this economy, why you had a court hearing and the judge was so unfair to you, or why you don't understand how this guy is still sitting in office after stealing millions from your city. IT'S PROBABLY BECAUSE YOU CHOSE NOT TO VOTE! This election year is closer than ever where it can swing either way so your ONE vote DOES matter. Take advantage of it! Many people in other countries don't get a say like we do, and there was a point of time in our country where I wouldn't be allowed to vote.
As another fun incentive, here are a bunch of fun freebies and discounts you can get today after voting:
On November 6th, head over to any U.S. Starbucks for a FREE Indivisible Bracelet.
On November 6th, head on over to your local White Castle with your "I Voted" sticker and you'll snag a FREE small Sweet Potato Waffle Fry with any purchase.
Buy one lunch, get a lunch free equal or lesser value OR $5 off Famiglia Meal OR $10 off Famiglia Deluxe Meal at Buca di Beppo
Show your "I Voted" Sticker at Famous Dave's to receive a FREE bottle of their award winning Rich & Sassy BBQ sauce with any purchase of $10 or more. Offer expires 11/06/2012. One BBQ sauce bottle per sticker.
Bring in your "I Voted" sticker today to Madame Tussauds Las Vegas to receive one free adult general admission ticket!
Come in with your "I Voted" sticker on at Olive Garden and score 1 free Dolicini, up to $3.95 maximum value, with the purchase of 1 adult entrée (not including soup, Garden Salad, or pizza) on the same check. Dine in only. Sales tax paid by the bearer. No coupon necessary to claim this offer. Valid at any Olive Garden location in the U.S. and Canada. Valid only on 11/6/12.
Marinello Schools of Beauty is offering complimentary haircuts November 5-9, 2012 to guests who show an "I Voted" sticker and make an additional in-store service or retail purchase.
20% off Food and Souvenirs at Hooters when you show you're "I Voted" sticker.
Stop by any Las Vegas Tropical Smoothie and show your "I Voted" sticker to get 1/2 their NEW spinach salad or wrap or Kiwi Quencher. (NVCODE50%off)

Ben & Jerry's is currently offering a special Americone Dream sundae, which includes Americone Dream ice cream (Ben & Jerry's flavor made for Stephen Colbert), caramel, whipped cream and a selection of dry toppings. This promotion is being extended to customers through the end of the year.

On Election Day, Chicago-based Bar 1 is offering all Bud products for 99 cents at all of its Windy City locales, including: Duffy's Tavern & Grille, Durkin's Tavern, Maeve, McGee's Tavern & Grille, Redmond's Ale House and The Wrightwood Tap. In true democratic fashion, Bar 1 will be holding its own mock election for the next president. Each participating bar will have polling places where citizens can informally make their vote for the next president. Winners of the faux-election will be announced and each voting participant will be entered in a raffle for a chance to win a brand new 50-inch TV! For more information please visit or call 773-868-8073.
THE POLLS ARE OFFICIALLY OPEN! FIND YOU'RE DESIGNATED LOCATION TO VOTE BEFORE 7PM HITS!