I was sitting at home last night contemplating what to cook for dinner. What better way to find the answer than the world wide web?! Coincidentally, a member of my couponing group posted a question in our online group about easy last minute meals. Perfect. Thanks to one of the suggestions of a fellow member, I was lead to the recipe of Ham and Cheese Sliders.
I've pinned recipes from "
The Girl Who Ate Everything
" before on Pinterest. I must say, I drool every time I visit her page. Being on a really tight budget lately, I needed something that had minimal ingredients and with my busy day yesterday, I needed something that wouldn't take too long to whip up. This recipe definitely didn't disappoint. It's a nice twist on your average mini sliders and SUPER easy to make. JAM even helped me out in preparing it all and loved every minute of it! I tweaked it a bit and used the Hawaiian rolls instead of regular dinner rolls. I'll find any excuse to use Hawaiian bread hehe. Like I said, I'm on a budget so instead of using fancy honey ham, I just bought my favorite brand of honey ham in sandwich meat and folded the slices in half. I also bought square sandwich slices of Swiss cheese and broke them in half to fit the mini sliders. I added one half slice of cheese per slider. Enjoy!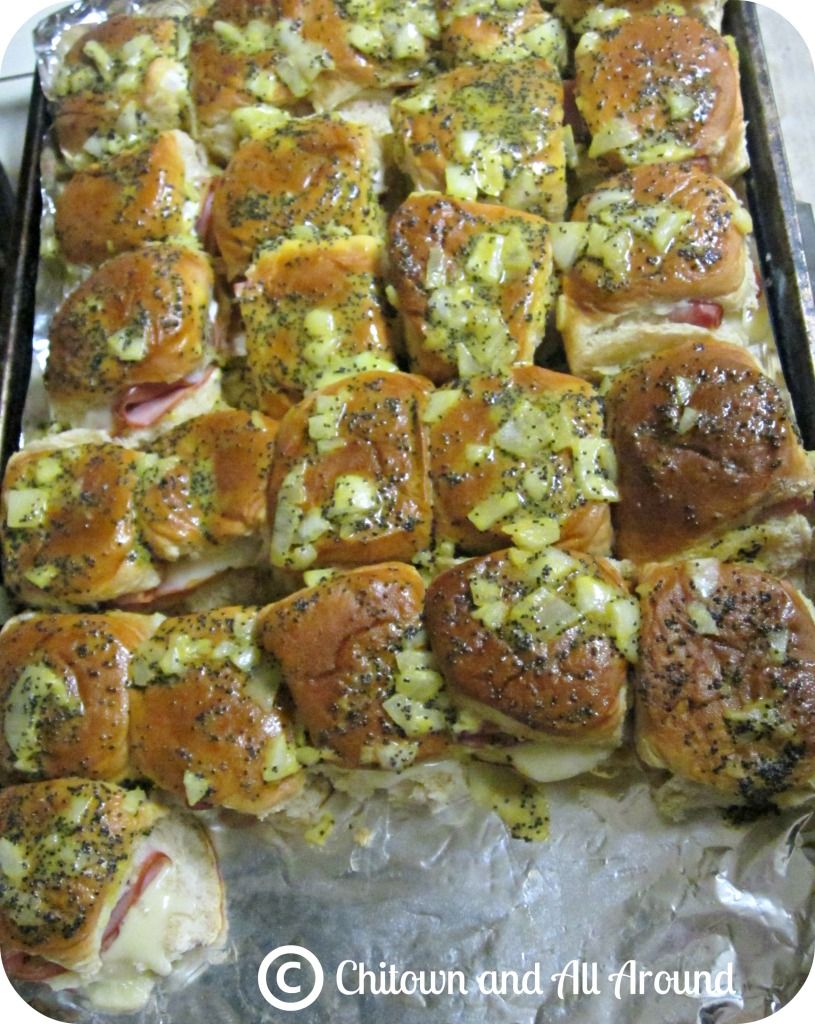 Ham and Cheese Sliders
Ingredients:
24 dinner rolls
24 pieces good honey ham
24 small slices Swiss cheese
1/3 cup mayonnaise
1/3 cup miracle whip
Poppy seed sauce
1 Tablespoon poppy seeds
1 1/2 Tablespoons yellow mustard
1/2 cup butter, melted
1 Tablespoon minced onion
1/2 teaspoon Worcestershire sauce
Directions:
In a small bowl, mix together mayonnaise and miracle whip. Spread onto both sides of the center of each roll.
Place a slice of ham and a slice of Swiss inside of each roll.
Close rolls and place them into a large baking dish or heavy cookie sheet. Place very close together.
In a medium bowl, whisk together all of the poppy seed sauce ingredients.
Pour mixture evenly over all of the sandwiches. You do not have to use all of the sauce! Just use enough to cover the tops.
Let sit 10 minutes or until butter sets slightly.
Cover with foil and bake at 350 degrees for 12-15 minutes or until cheese is melted.
Uncover and cook for 2 additional minutes or until tops are slightly brown and crispy.
Serve warm.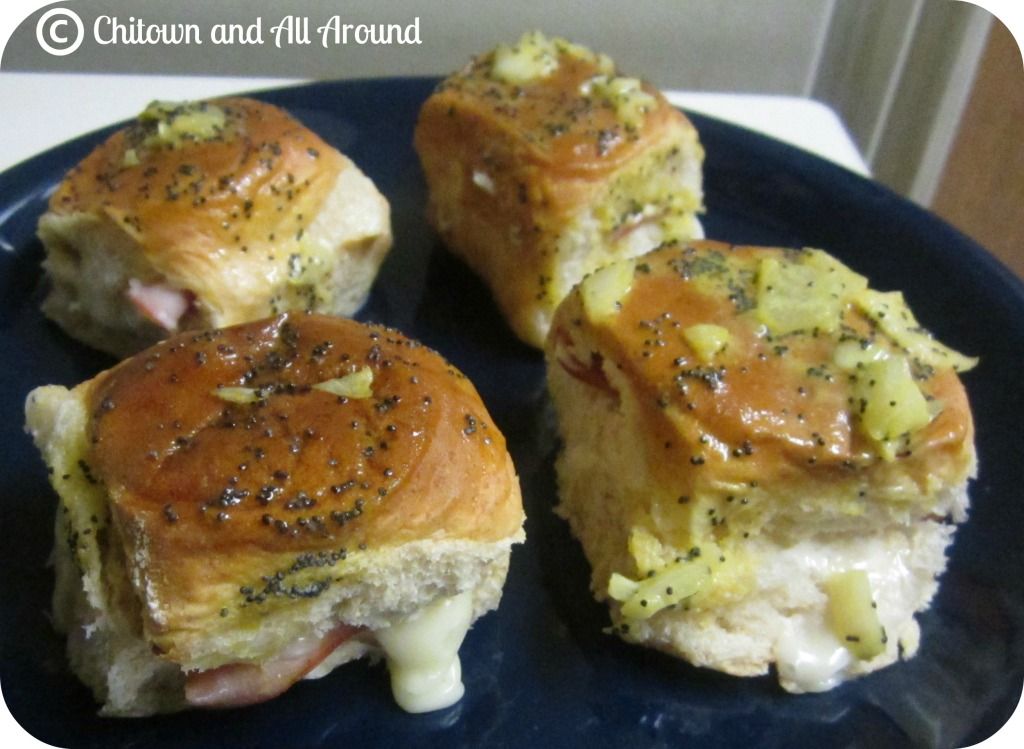 Note: Sandwiches can be assembled a day ahead and kept in the fridge ready to bake.